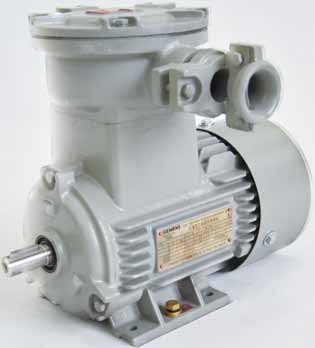 SIMOTICS XP 1MB0061 explosion proof motors
Overview
Rated output:0.55 ~ 315 kW
Frame Size:80 ~ 355
Rated voltage:380V 50Hz, 380 /660 V 50Hz
Cooling method:IC411 Flame proof marking:Ex d IIB T4 Gb
Protection degree:IP55
Insulation class:F
Re-greasing device:
Frame size 250~355 motor standard
Coolant temperature:-20 ~ 40 ºC
Site altitude:Up to 1000 m above sea level
SIMOTICS XP 1MB0061 (short as "1MB0061") series flameproof three-phase asynchronous motors is totally enclosed fan cooled structure, whose efficiency is in accordance with GB18613- 2012 Grade 3 standard. and IE2 according to IEC60034-30. This series of products has high performance, safe and reliable use, small vibration, low noise characteristics, and conforms to the requirements of environmental protection;
The production equipments employ the advanced CNC machine tools, reference Siemens advanced insulation structure design and manufacturing process, adopt the cold rolled silicon steel sheets of excellent quality and high quality bearings that passed strict quality inspection and control.
1MB0061 series flameproof motors meet the standard of GB3836.1-2010 and GB3836.2-2010, it can be applied in the following areas:
- Ex d IIB T4 Gb Suitable for factory where explosive gas atmosphere in Group II B and Temperature. classes T4 exists.
1MB0061 series flameproof three-phase motors, are designed for "Ex d ll B T4 Gb" as standard. Motors are widely applied in chemical, oil and gas industries.
Technical Features
■ Higher stiffness of mechanical performance 1MB0061 series motors have higher starting torque and maximum torque. which help the motor have higher performance of overload.
■ High quality bearing and lubrication 1MB0061 series motors is equipped with well-known foreign brand bearing and lubrication. This ensure the motor having features higher reliability.
■ Low noise The1MB0061 range has been designed to minimize motors noise levels, by means of improving magnetic and electrical design, ventilator condition, and structure assembling size and technology.
■ High reliability Motor is totally enclosed fan cooled structure with IP55. High mechanical strength and high anticorrosive property.
■ High quality of lamination Utilization of high quality lamination ensure lower noise and better consistency of quality for the 1MB0061 series of motors.