Siemens Perfect Harmony GH150 Solution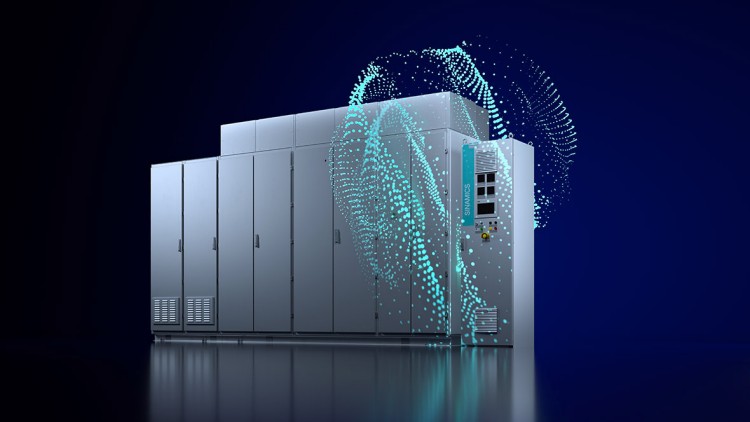 SINAMICS PERFECT HARMONY GH150 solutions introduction
Increased flexibility with different cooling types and extended power range
Now even more possibilities while staying on the safe side: The SINAMICS PERFECT HARMONY GH150 is the optimum drive for applications in the medium voltage range 4 - 13.8 kV, such as compressors for within the oil & gas industry. With its four different cooling types it offers maximum flexibility while at the same time offer highest availability due to its cell-based design. The ability to bypass any cell during operation in average less than 1 ms, and maintain the full output voltage, is why this drive offers the utmost availability. Being a member of the million-times market-tested SINAMICS drives family the SINAMICS PERFECT HARMONY GH150 provides almost sinusoidal voltage output and is equipped with the latest version of SIDRIVE IQ components to allow access to remote onsite data and provide live-data of the drive.
Benefits at a glance
Power cell redundancy to increase reliability: Maximize your process availability thanks to an optional cell bypass and redundant cells (options for n+1 and n+2 cell redundancy available). High-speed cell bypass feature maintains a reliable and balanced output voltage without torque or speed reduction;
Flexibility in cooling with 4 different cooling types: Flexible to meet any customer cooling requirements, independent of site conditions, direct water-cooled; direct air-cooled; indirect air-cooled (air/air heat exchanger); indirect water-cooled (air/water heat exchanger)
Remote diagnostics: The SINAMICS GH150 PERFECT HARMONY GH150 drives will be equipped with the latest version of SIDRIVE IQ components and have therefore access to all digital products of LDA. This includes the possibility collect remote onsite data and provide this information "live" to the control station.
Extremely motor friendly: SINAMICS PERFECT HARMONY GH150 with its M2C topology have virtually sinusoidal voltage on the output side. The motor friendliness of the drive is perfect for retrofits and long motor cable application;
Flexibility in respect to transformer type: The transformer can be chosen according to specific requirements. In most cases the transformer is placed in an outdoor transformer bay, thus eliminating the need for active cooling and E-House space for the transformer, also reducing the fire load within the building. In most cases oil cooled (ONAN/KNAN) transformers are used. However, the transformer can also be placed indoor if required (e.g. for offshore applications). The use of dry type transformers is also possible;
Separation between control and power unit possibility: The control unit can be placed up to 50m away from the power section of the drive and can thus be placed in a different room which does not contain any Medium Voltage equipment. This will allow access to the control unit also to operators that are not certified for working with medium voltage, thus allowing the customer to use his personnel more flexible.
Distributed DC-Link capacitors: Any voltage-source inverter (VSI) is equipped with the DC-Link capacitors as a temporary energy storage. With M2C topology the capacitors are distributed within the power cells and not concentrated as one large capacitor, as in 3-level or 5-level VSI drives. Thus the fault energy is distributed and much lower for every individual capacitor. In case of a failure that affects a capacitor the effects are very local and far easier to fix
Low noise emissions: The almost sinusoidal output current of the drive is very favorable for the noise level of the attached motor.
Technical data overview -
Cooling methods
Direct air-cooled with ducting option
Integral air-to-air heat exchanger
Integral air-to-water heat exchanger
Output voltage

4.16 kV
(24 cells)

6.6 kV – 6.9 kV
(36 cells)

10.0 kV – 11.0 kV
(54 cells)

13.2 kV – 13.8 kV
(66 cells)

Type rating

6 – 10 MVA

7 – 15 kHP

10 – 18 MVA

12 – 24 kHP

15 – 26 MVA

18 – 35 kHP

20 – up to 35 MVA

25 – up to 45 kHP

(more with dual circuit)

Cell current rating

1000 A, 1100 A, 1300A, 1400 A, 1500 A

Drive quadrants

Drive two-quadrant operation (driving without regenerative feedback, 2 directions of rotation)

Topology

Cell based topology (option: redundant cells with cell bypass)

Transformer

Separate transformer (default is oil-filled)

Rectifier Pulses

24 pulse standard, higher number of pulses for 10kV – 13.8 kV on request

Cooling methods

- Direct air-cooled with ducting option

- Integral air-to-air heat exchanger

- Integral air-to-water heat exchanger

Temperature

- Air-to-Air Heat Exchanger: 40 ºC max outside temperature for A/A-HEX, higher with derating

- Indirect Water Cooling with air-to-water heat exchanger: 35 ºC max water intake temperature, higher on request

Sound Pressure

< 85 dB(A)

Type of protection

IP42 air-cooled

IP54 air-to-air heat exchanger, integral air-to-water heat exchanger

Control modes

Vector control for induction motors and synchronous motors (incl. high speed motors)

Access

- Cable entry: top & bottom
- For maintenance: front access only sufficient
Technical data overview -
Cooling methods - Direct water-cooled
Output voltage

4.16 kV – 7.2 kV
(24 – 48 cells)

10.0 kV – 11.0 kV
(54 – 66 cells)

Type rating

4 – 30 MVA (dual circuit)

5.4 kHP – 40.2 kHP (dual circuit)

19 – 47 MVA (dual circuit)

25.5 kHP – 63 kHP (dual circuit)

Cell current rating

700 A, 1200 A

Drive quadrants

Drive two-quadrant operation (driving without regenerative feedback, 2 directions of rotation)

Topology

Cell based topology (option: redundant cells with cell bypass)

Transformer

Separate transformer (default is oil-filled)

Rectifier Pulses

12, 18, 24, 36

Cooling methods

Direct water-cooled

Temperature

Ambient: +5 °C … +45 °C (up to 50 °C brief operation on request)

Permissible raw water intake temperature: +5 °C … +35 °C (up to +46 °C optionally)

Sound Pressure

Standard: < 77 dB(A)

Option IP44: < 70 dB(A)

Type of protection

IP43 standard

IP44 as option

Control modes

Vector control for induction motors and synchronous motors (incl. high speed motors)

Access

- Cable entry: bottom
- For maintenance: front access only sufficient