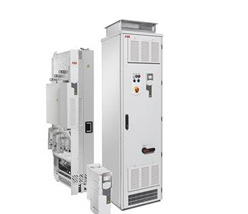 Standard frequency converter acs580
Help a variety of frequency conversion applications to achieve energy saving
APPLICATION
The new generation of all-round wall mounted kinetic energy transmission simplifies your production process and motor control to achieve energy saving. At the same time, you can control a variety of applications in different industries by simply and directly setting or debugging. Most of the basic functions are standard built-in functions, which can simplify the transmission selection without additional hardware. As a member of ABB's all-round transmission product series, its design purpose is not only to provide a transmission with comprehensive functions in terms of technology, but also to provide an all-round solution, which is suitable for all kinds of users, processes, businesses and environments. Acs580 can be used at any time to control pumps, fans, conveyor belts, mixers and many other variable torque and constant torque applications.
HIGHLIGHTS
● easy selection, installation and use
● basic functions are built into the transmission
● simple menu setting and assistant support rapid debugging
● energy saving function supports energy utilization
● it can be connected to any automation system or used alone
● a member of ABB's versatile transmission product line
● global supply and support