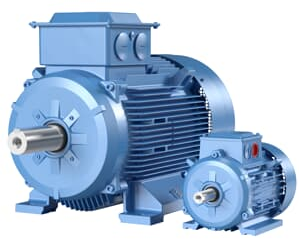 Low voltage General performance motors
M2BAX - Low voltage general performance motors are ABB high efficiency products. This series of motors are designed for both the Chinese market and export. Product development is on ABB strong R&D platform. The design is in line with international IEC standards and China local GB standards. The efficiency level reaches IE3 and IE2, equivalent to Grade 2 and Grade 3 (GB18613-2012).
M2BAX is specially designed for OEM customers, mainly integrated with fans, pumps and gear boxes. Main applications include Water & Waste water treatment, HVAC, Food & Beverage, Textile, Power, Pulp & Paper, Metal and others industries. The high quality of M2BAX and the excellent service of ABB continuously make value for the customers. Standard motors are on stock, which can shorten lead time and ensure a fast delivery. Higher product flexibilities lead to meet the ever-changing need from our customers.
Classification of degrees of protection provided by enclosures of rotating machines refers to:
Standard IEC 60034-5 or EN 60529 for IP code
Standard EN 50102 for IK code
IP protection
Protection of persons against getting in contact with (or approaching) live parts and against contact with moving parts inside the enclosure. Also protection of the machine against ingress of solid foreign objects. Protection of machines against the harmful effects due to the ingress of water.
IK code
Classification of degrees of protection provided by enclosure for motors against external mechanical impacts.
Rated Output
M2BAX motors rated outputs means that the motor runs under continuous duty S1 (IEC 60034-1) operation at ambient temperature from -20℃ ~ 40℃ and at altitudes of up to 1000 m above sea level.
Voltage and Frequency
The impact on temperature rise caused by voltage and frequency fluctuation is defined in IEC 60034-1. The standard divides the combinations into two zones, zone A and B. Zone A is the combination of voltage deviation ±5% and frequency deviation ±2%. Zone B is the combination of voltage deviation ±10% and frequency deviation +3%/-5%.