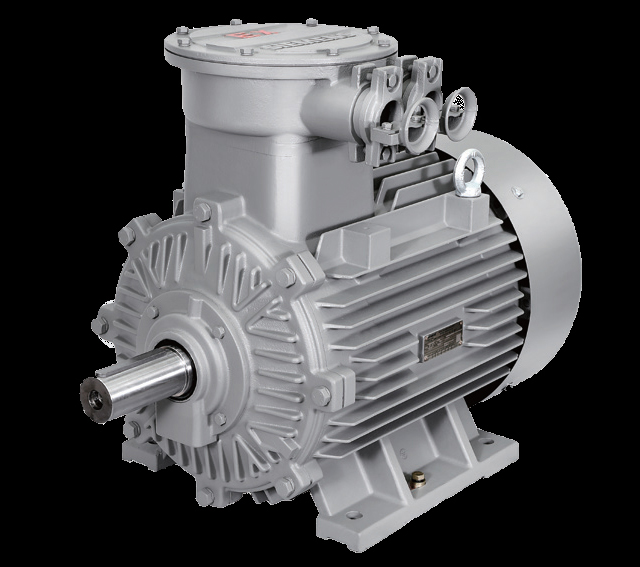 SIMOTICS XP 1MB0063 Low-Voltage Flameproof Motor
In many industrial and public industries, explosion hazards are ever-present, e.g. the chemicals industry, refineries, on drilling platforms, gas stations, feed manufacturing and sewage treatment plants.
The risk of explosion is always present when gases, fumes, mist or dust are mixed with oxygen in the air in an explosive ratio close to sources of ignition that are able to release the so-called minimum ignition energy.
In the chemical and petrochemical industries in particular, when crude oil and natural gas are being transported, or in mining, milling (e.g. grain and granular solids), explosion can result in serious injury to persons and damage to equipment.
To ensure safety in these areas, legislators in most countries have implemented appropriate stipulations in the form of laws and regulations based on national and international standards.
Explosion-protected equipment is designed such that an explosion can be prevented when it is used properly.
The explosion-protected equipment can be designed in accordance with various types of protection.
The local conditions must be subdivided into specified zones by the user with the assistance of the responsible authorities in accordance with the frequency of occurrence of an explosion hazard. Device (equipment) categories are assigned to these zones. The zones are then subdivided into possible types of protection and therefore into possible equipment (product) types.
Classification of zones
Areas subject to explosion hazard are divided into zones. Zoning is based on the presence time of explosive substances and probability of explosion. Information and specifications for classification of the zones are laid down in the following standards:
• GB 3836.14, IEC/EN 60079-10-1 for gas atmospheres
• GB 12476.3, IEC/EN 60079-10-2 for dust atmospheres
Furthermore, a distinction is made between various explosion groups as well as temperature classes and these are included in the hazard assessment.
Depending on the particular zone and therefore the associated hazard, operating equipment must comply with defined minimum requirements regarding the type of protection. The different types of protection require corresponding measures to prevent ignition that should be implemented at the motor in order to prevent a surrounding explosive atmosphere from being ignited.
Application
The explosion-proof motors are often used in the following industries to prevent explosion hazards that result in serious injury to persons and severe damage to property.
• Chemical and petrochemical industry
• Production of mineral oil and gas
• Gas works
• Gas supply companies
• Petrol stations
• Coking plants
• Mills (e.g. corn, solids)
• Sewage treatment plants
• Wood processing (e.g. sawdust, tree resin)
• Other industries subject to explosion hazards