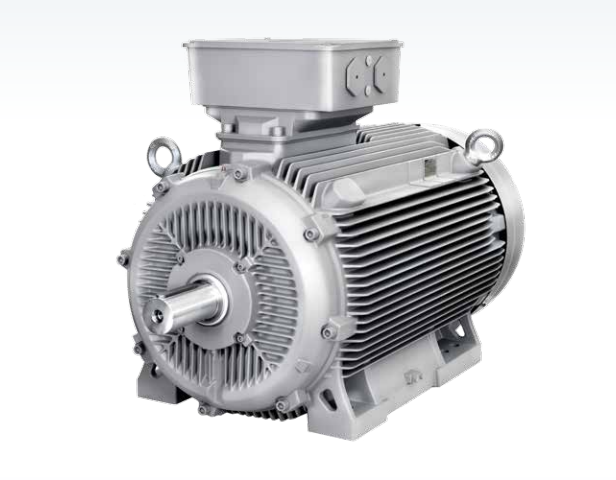 Rated power output: 132~500kW
SIMOTICS 1LE8, based on SIMOTICS SD 1LE5 global design platform, is a new generation of low-voltage high-power motor suitable for general purpose and severe duty application and developed for the Chinese market.
SIMOTICS 1LE8 new generation low-voltage high-power motor is characterized by reliability and high power. Optimized design, the motor structure is very compact. 1LE8 with high energy efficiency (IE3), rugged design, compact dimensions/high power density.
Features of SIMOTICS 1LE8
■ Frame material: grey cast iron;
■ Standard color: stone grey (RAL 7030);
■ Rated power output: 132~500kW at 50Hz;
■ With efficiency grade 2. according to GB18613-2012 and efficiency class IE3 (50Hz) according to IEC 60034-30;
■ Optimized compact style construction design, characterized by reliable and powerful performance;
■ Standard mounting construction according to IEC 60034-7: IM B3, IM V1, IM B35 and etc;
■ All motors are designed to IP55 degree of protection (IEC 60034-5) and optionally meet IP56,IP65 degree of protection;
■ Re-greasing devices as standard;
■ Reinforced bearings for increased cantilever forces as option;
■ Winding protections with PTC, PT100 and KTY84-130 as option;
■ Terminal box on top, and cable entry on right side (viewed from driven end). Variable location of connection boxes and cable entries as option;
■ Insulation system is designed for Temperature class 155 (F). At rated output with line-fed operation, the motors can be used in temperature class 130 (B);
■ Self ventilated motors with radial-flow fans (cooling method IC411 according to IEC 60034-6) as standard, forced air cool with external separately driven fans as option.