ABB's leading technologies support China in building world-class aviation hub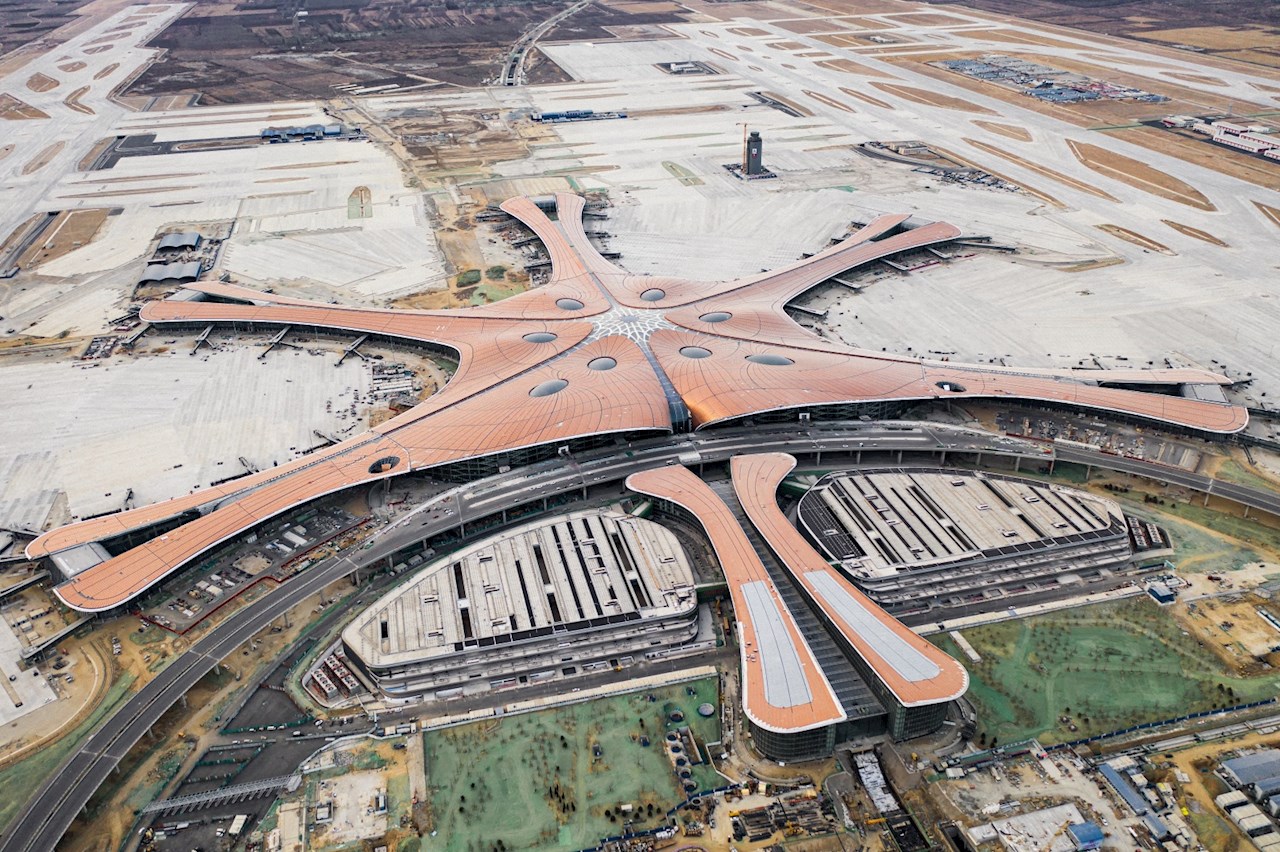 After four years' construction, Beijing Daxing International Airport ("Daxing Airport"), a landmark project of China, is officially put into service. The huge international integrated aviation hub will supplement the Beijing Capital International Airport to form a dual-hub pattern, opening the aerial gateway in southern part of the city and enabling a renewed development of Beijing.
With a terminal area of 7,000,000 square meters, Daxing Airport is the first airport in the world that has a high-speed train passing underneath. It also has the first terminal with vertically stacked departure and arrival halls as well as the largest single terminal in the world. The Airport is expected to handle 72 million passengers in 2025 and achieve a throughput of 100 million passengers in a long term, meeting the annual transportation demands of 4 million tons of cargo.
As a global technology leader, ABB actively contributes to the construction of numerous infrastructure items for the Daxing Airport and guarantees its safe and stable operation in different functional fields while reducing maintenance costs and improving the operational efficiency.
As a crucial integral part of auxiliary projects, the water supply station will provide water for the whole airport terminal area, public area and flight area. ABB provided ACQ580, a frequency converter specialized for water industry to control multiple pumps, ensuring proper function of the wheel pump while effectively balancing the running time of each pump; based on measuring differential pressure or pump power curve, it can help the station conserve resources and reduce the engineering costs through sensorless flow calculation. With its unique "sleep and boost" function, the converter will effectively prevent the low-speed running of water pump and improve the energy efficiency to support guarantee the water supply of the Airport.
The safety and reliability of power equipment is vital for the stable operation of the airport. ABB provided a series of LV power distribution solutions and components such as circuit breakers for the core areas (terminal, service center and parking building) to achieve reliable power monitoring and energy management. ABB's medium-voltage switchgear have also been successfully deployed in the base of China Southern Airlines in Daxing Airport, ensuring the long-term and stable operation of the power system.
In addition, ABB provided leading power equipment for this world-class project. As a key equipment for building the smart power grid in Daxing Airport, ABB provided Gas-insulated switchgear (GIS) which ensures safe operations in confined spaces while significantly reducing equipment footprint by using pressurized insulating gas. Featured with high reliability and energy saving, ABB's transformers have been successfully applied in two substations of the airport to comprehensively improve the performance of the entire power supply system, enhancing power security for the airport and reducing maintenance costs and risks.
"We are honored that ABB has been engaged in this marvelous project." said ZZ Zhang, Managing Director of ABB in China, "Powered by a broad array of leading products and solutions, ABB's participation in its construction exemplifies the company's commitment in becoming a partner of choice for the Chinese customers and its efforts in supporting the fast development of China's transportation infrastructure."
By integrating the comprehensive transportation network of "five longitudinal lines and two crosswise lines", Daxing Airport will not only drive the industrial development in the area, but also comprehensively improve coordinated development of the Beijing-Tianjin-Hebei Region with the aviation economic cycle formed around.
ABB (ABBN: SIX Swiss Ex) is a technology leader that is driving the digital transformation of industries. With a history of innovation spanning more than 130 years, ABB has four customer-focused, globally leading businesses: Electrification, Industrial Automation, Motion, and Robotics & Discrete Automation, supported by the ABB Ability™ digital platform. ABB's Power Grids business will be divested to Hitachi in 2020. ABB operates in more than 100 countries with about 147,000 employees. ABB has a full range of business activities in China, including R&D, manufacturing, sales and services, with near 20,000 employees located in more than 130 cities, 44 local companies, and online and offline channels across around 700 cities.