M2BAX IE4 general purpose motors released
"Energy efficient, do my best" - A new generation of M2BAX IE4 general purpose motors released ABB motors and generators 2022-02-07 17:00
M2BAX IE4 general-purpose motor H80-355 has been officially released at the beginning of the year, and orders have been officially accepted since February 7th. Changes brought about by the dual carbon policy In the second half of last year, China officially set 2030 and 2060 as the time nodes for carbon peaking and carbon neutrality, and at the beginning of this year, "carbon neutrality" was included in the government work report as a national strategy. Since then, the dual-carbon policy will further promote the structural optimization and production capacity upgrade of the entire Chinese economy. Some leading companies in related industries have also begun to formulate their own carbon neutrality plans and goals. As a large electricity consumer, our motors consume 45% of the world's electricity. With the advancement of the global electrification trend, the use of electric motors will increase significantly by 2040. Therefore, the state has put forward new energy efficiency requirements for motors, and the minimum energy efficiency requirements have been upgraded from IE2 to IE3 (national three-level energy efficiency). At the same time, driven by the dual carbon policy, many industries have obvious demands for efficient IE4 and ultra-efficient IE5.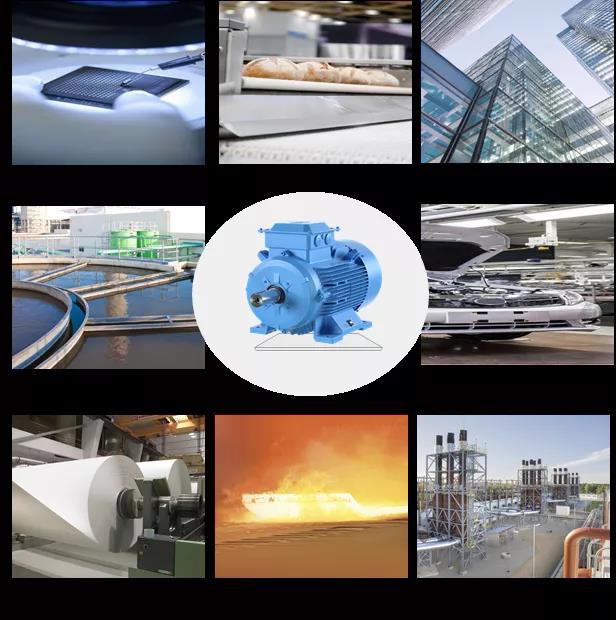 M2bax IE4 general purpose motor

M2bax IE4 general purpose motor is mainly designed for OEM customers who buy motors in large quantities. Its applications include fan, water pump, reducer, compressor, general machinery, etc. it can be applied to water treatment, HVAC, food and beverage, textile, electric power, machine tool, papermaking, metallurgy and other industries. M2bax's excellent quality and service provide customers with value-added space, and higher product flexibility can meet various customer needs.
| | |
| --- | --- |
| 型号 Model No. | M2BAX |
| 输出功率 Output | 0.37 to 355 kW |
| 极数 Number of Pole | 2-6 poles |
| 中心高Center Hight | 80 - 355 mm |
| 效率Efficiency | IE4 |
| 电压频率Voltage/ Frequency | 220 - 690 V, 50/60 Hz |
| 启动方式Start type | Direct start and variable frequency start |
| 安装方式 Mount type | B3, B5, B14, B34, B35 |
| 环温Ambient temperature | -20 °C ~ +40 °C |
| 冷却方式Cooling method | IC411, TEFC |
| 防护等级Protection class | IP55 |
| 认证Certification | Chinese Efficiency |