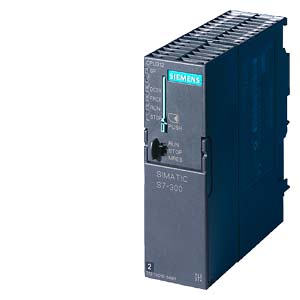 Overview
S7-300
The modular mini PLC system for the low and mid-performance ranges
With comprehensive range of modules for optimum adaptation to the automation task
Flexible use through simple implementation of distributed structures and versatile networking
User-friendly handling and uncomplicated design without a fan
Can be expanded without problems when the tasks increase
High performance thanks to a range of integrated functions
S7-300F
Fail-safe automation system for plants with increased safety requirements for production technology
Based on S7-300
Additional ET 200S and ET 200M distributed I/O devices complete with safety-related modules can be connected
Safety-related communication via PROFIBUS DP with PROFIsafe profile
Standard modules can be used in addition for non-safety-oriented applications
Availability
As part of our established product portfolio, the SIMATIC S7-300/ET 200M system families will generally be available until 2023.
Following the product phase-out declaration, products will be available as spare parts for another ten years.
Application
S7-300
SIMATIC S7-300 is the mini PLC system for the lower and medium performance ranges.
The modular and fan-free design, simple implementation of distributed structures, and convenient handling make the SIMATIC S7-300 the cost-effective and user-friendly solution for the most diverse tasks in the low-end and mid performance ranges.
Application areas of the SIMATIC S7-300 include:
Special machinery
Textile machines
Packaging machinery
General mechanical equipment manufacture
Controller building
Machine tool manufacture
Installation systems
Electrical/electronics industry and the skilled trades
Several performance-graded CPUs and a comprehensive range of modules with a host of user-friendly functions allow you to use only those modules necessary for your application. In the case of task expansions, the controller can be upgraded at any time by means of additional modules.
SIMATIC S7-300 can be used universally:
Maximum suitability for industry thanks to high electromagnetic compatibility and high resistance to shock and vibration.

S7-300F
The SIMATIC S7-300F fail-safe automation system is used in plants with increased safety requirements. It controls processes where immediate shutdown presents no danger to personnel or the environment.
S7-300F complies with the following safety requirements:
Requirement class AK 1 to AK 6 in accordance with DIN V 19250/DIN V VDE 0801
Safety requirement class SIL 1 to SIL 3 in accordance with IEC 61508
Category 1 to 4 in accordance with EN 954-1
Additionally, standard modules may also be used in S7-300F alongside the fail-safe modules. This makes it possible to establish a fully integrated control system for a plant where non-safety related tasks and safety-related tasks co-exist. The overall plant is configured and programmed with the same standard tools.